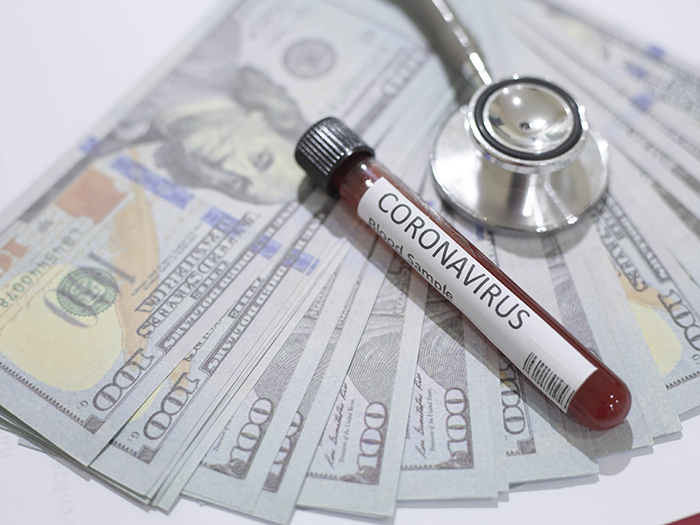 COVID-related workers compensation claims are here. And yes, a small percentage of them are expensive: risk and insurance
A recent Mitchell report found that while COVID-19 claims have decreased in quantity, they are driving higher costs.
Mitchell, the workers' compensation software company, has released its second report on COVID-19 claims.
In this case, the "High Dollar Claims Driving Workers' Compensation COVID-19 Claims Costs" report focuses on trends that echo broader considerations – higher dollars in fewer claims.
This year, as COVID declines in countries where vaccines and boosters are readily available, Mitchell presented two major findings:
COVID-19 workers' compensation claim costs are rising, which can be attributed to a low percentage of high-value claims.
Most industry sectors returned to or exceeded pre-pandemic claims volumes in 2021, with the exception of the accommodation and food services sector, which reached slightly less than 2019 volumes.
Surprise high dollar claims are the primary concern as COVID takes a less prominent role in the popular, industry-specific imagination.
For Tina Queen, Mitchell's senior director of product management for the company's Casualty Solutions group, the analysis doesn't clearly point to a specific problem, but she did acknowledge that the widespread syndrome known as "long COVID "could play a role.
"We can make educated guesses based on the data we have reviewed. We think it's possible that some of the increase is related to the long COVID," Queen said.
"We have found that a small percentage of claims related to COVID-19 drive the majority of claims costs. About four percent of the COVID claims we reviewed had 10,000 benefits per claim. We use this figure as a benchmark.
Defining the long COVID
According to the World Health Organization (WHO), long COVID is characterized as a condition that "occurs in people with a history of probable or confirmed infection with SARS-CoV-2, usually three months after the onset of COVID-19 with symptoms that have lasted for at least two months and cannot be explained by another diagnosis.
Common symptoms include:
Fatigue
Shortness of breath
Cognitive dysfunction
Others that generally impact day-to-day functioning
Through further analysis, Mitchell found that the vast majority of these high-cost COVID claims occurred in 2020, which Queen says indicates that the long COVID is having some bearing on the increase.
However, it would require further analysis to analyze this of deaths and settlements.
Mitchell noted in the report that preliminary data analysis shows that many of the high claims in the Mitchell data set were settled claims related to death or extreme illness from COVID-19, but that it it is not necessarily a trend.
Whether this is a trend will be the subject of next year's report.
Throughout the reports, compensation costs remain a major concern: "Costs of compensation have increased significantly," Queen said.
"In December, the average cost of compensation for a COVID claim increased by 40% compared to Mitchell's analysis in June 2021 – to approximately $3,500 per claim. Only 12% of COVID-related claims had more than $4,000 in compensation paid. When we exclude these four percent of the largest claims, the cost of compensation fell to $1,452.
"Most of these expenses are driven by claims associated with medical expenses. So, an applicant is actually seeking medical treatment for COVID. The cost of compensation claims alone remained fairly constant, so someone, for example, was exposed to work and forced to take time off.
Queen explained that this consistency makes sense given that the workers' compensation industry has similarly reimbursed quarantine periods.
The report noted that workers' compensation claims trends have essentially returned to pre-pandemic levels, with the exception of the food and hospitality sector, where there was still a minimal increase from compared to historical data. Mitchell attributes this difference to the fact that most industries have not been affected as deeply as food and hospitality by the pandemic restrictions.
Indeed, the NCCI noted in a 2021 analysis that with more employers potentially transferring workers to clerical/clerical class codes (8810) as duties change, the experience of loss could increase. 'improve. Exposure to teleworking is integrated into the industrial group.
So if claims volumes are up on the hospitality side and down in the average 40% of jobs that require little or no on-site work, it could be a washout.
Looking forward
As rate filing season begins again, COVID claims are still excluded. The NCCI maintained its policy that "compensable claims directly attributable to the COVID-19 pandemic and reported under Catastrophe Number 12 will be excluded from underlying data for loss costs and state-filed rates."
With Mitchell's data analysis in mind, industry leaders may be at a crossroads – most jurisdictions have no plans to reimpose pandemic restrictions even if another surge occurs , and it is reasonable to expect this to be the case.
"While we can't predict the future, we can go back to the patterns to see what might happen in a given scenario," Queen said.
"Since the beginning of the pandemic, the number of workers' compensation claims has fluctuated according to the evolution of the number of cases. As vaccines and boosters have become more widely available in the United States in 2021, most jurisdictions have significantly reduced restrictions. Even though the delta variant emerged last year, most states have not reimposed those restrictions or the stay-at-home orders that existed at the start of the pandemic, and instead opted for mask mandates or requirements. regarding vaccines.
This report did not include the omicron push, so Mitchell plans to revisit this data in another report. Queen noted that the high number of dollar claims could vary significantly when taking this increase into account.
The unequal effort to vaccinate the developing world in a global economy could also surface in the coming year ahead of Mitchell's next report.
Borders are open again and despite repeated calls and WHO's 70% vaccination rate targets for all countries, some poor countries are still effectively excluded from the vaccine market, mainly in Africa.
The refrain of vaccine equity — no one is safe until everyone is safe — no longer carries the weight it once did in wealthy Western countries, where hybrid labor, the oversupply of vaccines and the diminishing monetary consequences for the financial sector mean that the pandemic is over for most citizens. &
Nina Luckman is a business journalist based in New Orleans, focusing primarily on the workers' compensation industry. For the past few years, Nina has served as editor of Louisiana Comp Blog, a news site she launched in 2014 under the auspices of a group self-
insurance
fund. She can be reached at [email protected]