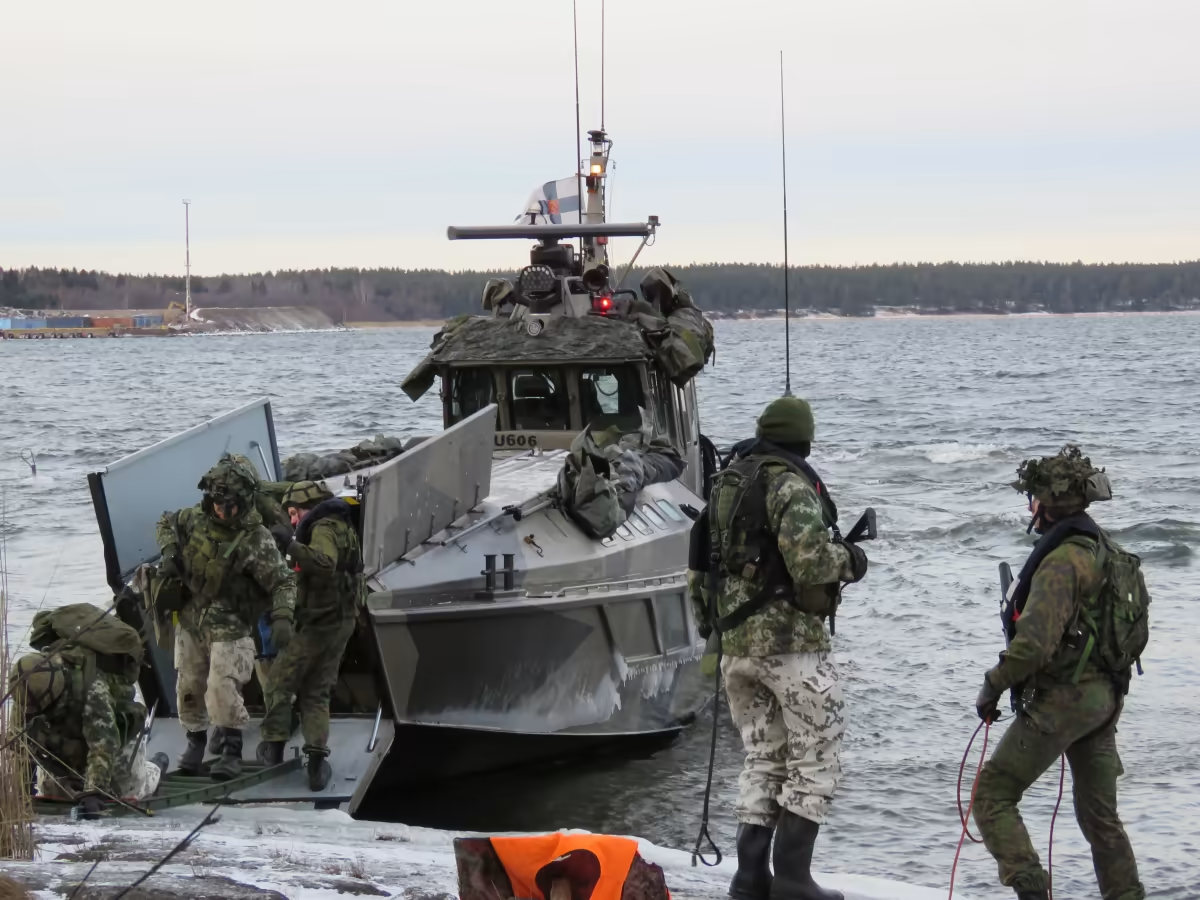 Finnish Defense Forces to use biofuels on land and at sea – Eye on the Arctic
Solar panels have also been installed on Defense Force installations as far away as Lapland, where a building at Someroharju Garrison has been fitted with panels.
The Finnish army is aiming for a major reduction in its climate emissions by introducing biofuels in land and sea transport. A detailed plan will be completed next year.
"Of course, a lot depends on the availability and price of renewable fuels, but at least now the goal seems quite achievable," said the Finnish Defense Forces environment manager. Teemu Pasanen.
Corn, forestry industry waste and fish oils are examples of feedstocks currently used for biofuel production, and in the future, algae is likely to become increasingly important. Not all battle tanks will necessarily run on biofuel, but a large number of military vehicles will.
Jet fighter fuel from animal waste and fat?
Land and sea transport generate a quarter of Defense Force emissions, but the largest source is in the sky. When an F-35 fighter (Finland has 64 on order) completes a 200-kilometre run, its emissions are equivalent to driving a gasoline-powered car for a year. Sixty-five percent of the Finnish Defense Forces' emissions come from aviation.
The idea of ​​an aviation biofuel for the F-35, made for example from waste and animal fat, is being studied with the fighter manufacturer Lockheed Martin, but it is not simple.
Pasanen, who has worked on environmental issues in military aviation, does not believe we will get rid of fossil-based kerosene-type jet fuel in this decade.
"I would consider that unlikely. On the other hand, development is moving fast, so that remains to be seen," he noted.
F-35 fighters are also being flown by the UK, where the Royal Air Force is studying the possibilities of algae-based biofuel and synthetic kerosene. In Sweden, a Gripen fighter made a successful test flight using rapeseed oil fuel several years ago. However, biofuels have not yet been certified for regular use by military aircraft.
Greening NATO
It is estimated that the armed forces and the defense industry generate around 6% of the world's carbon dioxide and methane emissions. The actual share is unknown, as the industry is not required to report its emissions, although some arms manufacturers do.
The armed forces have been excluded from international climate agreements such as the Kyoto Protocol and the Paris Agreement, with national security cited as the reason, and Finland's emission reduction targets are also not binding for defense forces.
However, there are voluntary efforts in many countries. NATO established a center of competence on climate change in Canada this year. general secretary Jens Stoltenberg said he had a vision of a carbon-neutral NATO by 2050.
Finland will have no difficulty in meeting NATO climate goals, says Defense Ministry environmental adviser Sara Kajander.
"I would say that Finland is really at the forefront in this area. Our national policies are similar or more ambitious than what NATO has released so far," she said.
According to Kajander, only a few countries, including Finland, have set a public military operational emissions reduction target.
Security of supply
Switching to low-emission fuels is not only a sensible and environmentally friendly act, but ultimately a must, because at some point fossil fuels will no longer be available. The switchover will also improve national security of supply, if the fuel is obtained locally and the supply chain is short.
Kajander said the purchase of biofuels has not yet been agreed and a demand for locally produced fuels cannot be directly issued as criteria in public procurement.
"We are aiming for a practice similar to the current practice, where there is a framework agreement with the supplier and certain maintenance requirements are included in this agreement. A national supplier is a good guarantee of security of supply for us", underlined Kajander.
In Finland, biofuels for transport are produced by Neste, ST1 and UPM, for example. Worldwide, the production of biofuels is still far from sufficient to replace the demand for fossil fuels.
Extreme weather conditions, greater risk of conflict
Both Kajander and Pasanen emphasize that defense capability will not be compromised by emissions targets. If greenhouse gas emissions reductions threaten defense capabilities, emissions reductions will suffer. For example, the Air Force will continue the exercises as much as it deems necessary.
On the other hand, climate emissions from barracks and other military installations have been reduced by 90% over the past 10 years. Oil-fired boilers were converted to burn wood pellets and electricity contracts were revised to purchase emission-free electricity.
Solar panels have also been installed on Defense Force installations as far away as Lapland, where a building at Someroharju Garrison has been fitted with panels.
So far, the panels have produced electricity for one building, explained Marcus Haksowho directs the real estate management of the Defense Forces.
"We have now gained experience that they work even at these latitudes, so we plan to expand to larger power units," Hakso said.
Kajander describes the situation as "efficient picking of the fruit at hand". Operationally, it is more difficult to reduce emissions.
The world's armed forces have every reason to do what they can, because extreme weather events also increase the risk of conflict in several ways. Floods destroy homes and crops during droughts many have to flee. Competition for dwindling natural resources is accelerating.
Extreme weather conditions also impact defense force operations when heat waves not only overheat soldiers, but also the electronic devices they rely on, and flooding destroys important transportation routes.
Northern Related Stories:
Canada: Canada's Inaction on Arctic Surveillance Could Affect Future Sovereignty: Report, Looking at the Arctic
Faroe Islands: Denmark and Faroe Islands agree to establish air surveillance radar to fill gaps in Arctic surveillanceLooking at the Arctic
Finland: Norwegian military vehicles use a new transit corridor via Finnish LaplandThe Independent Barents Observer
Iceland: Arctic security discussed at Reykjavik North Group meetingLooking at the Arctic
Norway: Defense minister says Norway needs to get stronger in the NorthThe Independent Barents Observer
Russia: The assertive contours of Moscow penetrate the center of the Arctic OceanThe Independent Barents Observer
United States: US Army Set to Reorganize Forces in Alaska to Prepare for Arctic CombatThe Associated Press