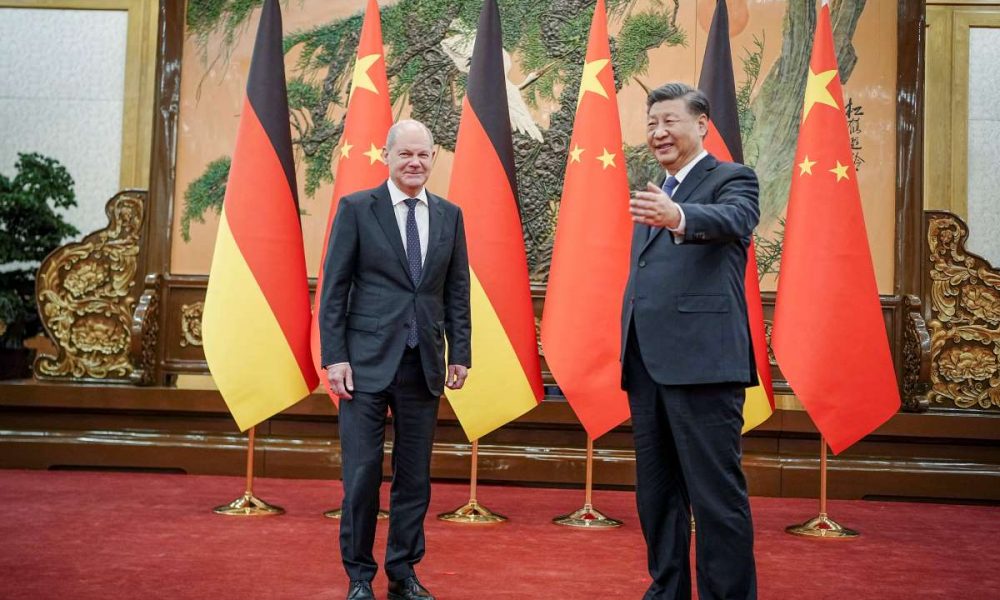 Olaf Scholz and the German double dance in Asia
Chinese journalists have been instructed by the Ministry of Publicity (formerly the Ministry of Propaganda) to present Olaf Scholz trip to Beijing as a historic event, which marked Germany's pragmatic and commercial approach to China.
Official photos have been distributed of the Chancellor with Xi Jinping in the great hall of the people. He was the first foreign head of government to visit China since the pandemic.
On this short trip, he was accompanied by representatives of powerful German companies that have invested huge sums of money in China. The Chancellor and the CEOs told their audience that they did not want countries to "decouple".
It was music to Chinese ears, for the Communist Party believes that decoupling is an American plot, designed to curb the rise of China.
bad timing
The trip was controversial, shortly after the 20th Party Congress in Beijing, where Xi Jinping consolidated power and won a third term.
Several key members of Germany's current coalition government – including Foreign Minister Annalena Baerbock – have questioned the timing. She advocated a more "values-oriented" stance on human rights in China. And less economic dependence.
Under former Chancellor Angela Merkel, there was an aspiration on the German side that trade would drive political change in China. So, does Chancellor Scholz basically retain the same hope as his respected predecessor? Despite China's lurch towards a more rigid form of authoritarianism?
Looking closely at the situation, I am struck by how deeply divided Germany is over China. I have found that this creates tension at the highest level of government.
Yet, at the same time, I observed a strong commitment from the Germans to stay on the best possible terms with Japan and South Korea. It seems they are hoping this can help offset the problems of doing business with China.
I found a quote from Olaf Scholz in 2018, before becoming chancellor, which seems to sum up his vision of Asia. He said that when people go to a village disco, they have to be ready to dance with anyone in the room. And the same goes for global politics.
Presidential double act
The German dance with Asia takes the form of a double act.
A few days before the German Chancellor is due to visit China, Federal President Frank-Walter Steinmeier paid an official visit to Japan.
At first glance, the attitudes of the President and the Chancellor towards China seem markedly different, and the Chancellor is the more powerful figure.
Yet the president is also influential. Especially given Mr. Steinmeier's position as a former statesman in Mr. Scholz's own party, the SDP, and his experience as a former foreign minister.
President Steinmeier visited His Majesty Emperor Naruhito and Her Majesty Empress Masako at the Imperial Palace. He also held political talks with the Prime Minister, Fumio Kishida and members of the Japanese Parliament.
In addition, he participated in a roundtable with German and Japanese entrepreneurs in Tokyo. That was before heading to Kyoto, where he discussed the climate crisis with students and researchers – 25 years after the signing of the Kyoto Protocol.
It was also an opportunity to see the latest research on electric vehicles at a Panasonic factory.
President Steinmeier also visited South Korea and lunch with President Yoon Suk-yeol exactly when Chancellor Scholz was in China, he was having a meal with the Communist Party Politburo.
As president, Mr. Steinmeier has a constitutional duty to be careful about what he says about policy. Nevertheless, his views on Asia were clarified in an interview with public broadcaster ARD.
"The lesson is that we need to reduce unbalanced dependencies wherever we can," he said. "This applies in particular to China."
Should we talk more?
The debate continues in Germany over whether to flee China diplomatically or maintain dialogue. Chancellor Scholz said in Beijing that Germany is willing to exchange views in order to increase mutual understanding and develop bilateral relations.
He also spoke candidly about some issues. He urged China to use its influence over Russia to stop the war in ukraine. And he claimed that the two countries had agreed Russian nuclear the threats were "irresponsible and extremely dangerous".
He raised controversial topics, including human rights and Taiwan during his talks with Mr. Xi and outgoing Prime Minister, Li Keqiang.
"Like the United States and other countries, we pursue a one-China policy. But I also made it clear that any change in Taiwan's status quo must be peaceful or by mutual consent," he said. he declares.
All this suggests that, according to the Chancellor, it would be better not to isolate Xi Jinping. He may think it would be risky to let the Chinese leader listen only to loyal members of the Politburo or friends of China, such as President Vladimir Putin.
Yet, in my opinion, there is a problem with this approach. Xi Jinping seems to be filtering out messages he doesn't want to hear, even if delivered to him bluntly by a respected national leader.
Censored reports
The party's ideology is clear to readers of China Daily, a national newspaper.
In an article about Mr. Scholtz's visit, critical comments about Russia were filtered and the issue of human rights was censored. Instead, the newspaper quotes Ding Chun, director of the Center for European Studies at Fudan University. Ding said Mr Scholz, as the leader of Europe's largest economy, took the initiative to visit China after the pandemic hit. This sends a signal, he said, that Germany is willing to keep its relations with China afloat, especially in economic and trade areas.
"Although not all issues between China and Germany could be resolved overnight with this single visit, face-to-face communication and actions to ensure cooperation and dialogue are win- win for both sides," Ding Chun told the newspaper.
Tellingly, I found no mention in the Chinese media of the German President's trip to Tokyo and Seoul. Going back to the village disco metaphor, when the spotlight is on Xi Jinping, it seems like all the other dancers are left in the shadows.
However, it is worth recalling that Mr Scholz's first trip to Asia after becoming chancellor was to Tokyo, where he met Prime Minister Kishida in April 2022.
At the time, experts warned that China was trying to drive a wedge between the United States and its allies in Europe and Asia, including Germany and Japan.
It remains a danger, although I think the Germans are aware of the risk.
This is indicated by a consistent element of their Asian policy. Every time the Germans nod respectfully to China, they are also making it very clear that Japan is a country they respect, trust and want to continue doing business with for many years to come. .
RELATED:
Author: Duncan Bartett
Duncan Bartlett is a regular contributor to JAPAN Forward. You can read his more articles and essays here.