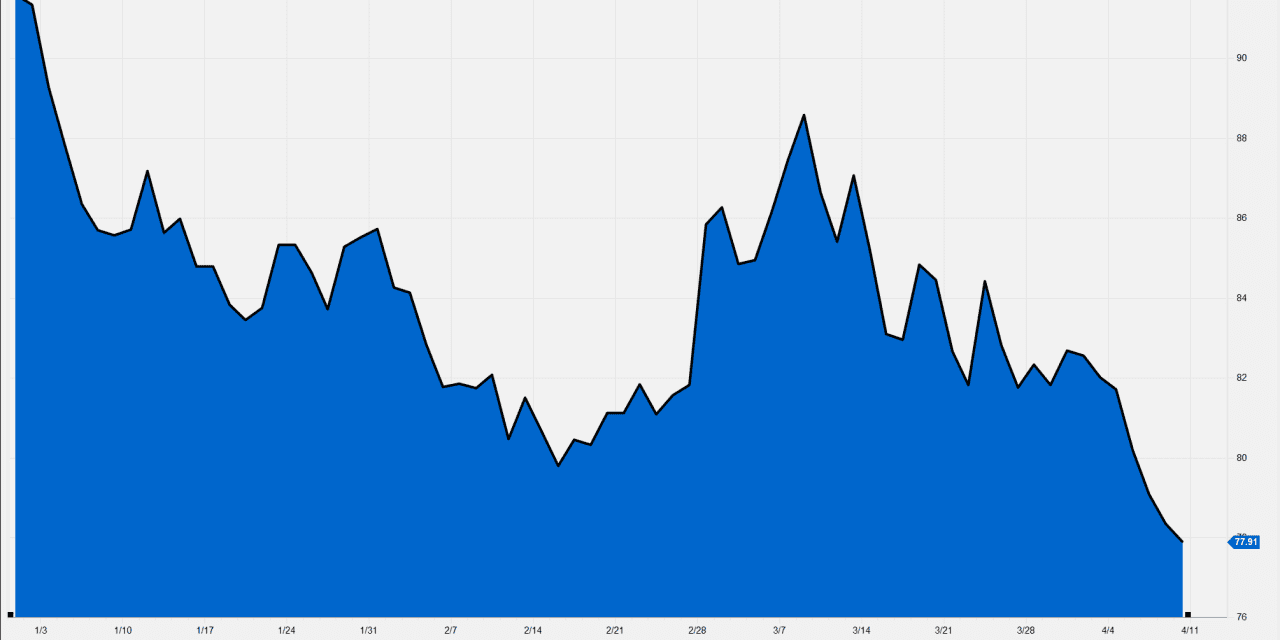 These inflation protection funds are on sale
The real panic over inflation seems to be skyrocketing. But the investments that will try to protect us from the ravages of inflation seem to be getting cheaper.
Weird, right? Only on Wall Street.
But it's good news for retirees, who stand to lose more from inflation than virtually anyone else.
(You may have noticed that this year's "cost of living adjustment" for your Social Security checks, announced with such fanfare last fall, is already a meltdown. Even in February, inflation rate was a third higher than the COLA, and the Cleveland Fed estimates that inflation is now even faster, at 8.5%. Oh, yeah, and those are just the official inflation rates.)
Long-term inflation-protected Treasuries have plunged since the start of the year, despite the official state of National Freak Out on soaring prices at the supermarket and at gas pumps. And a few inflation-hedge mutual funds favored by Bill Gates are even cheaper than that.
(If you're under 40, Bill Gates is an old man who was richer than Elon Musk and Jeff Bezos.)
The PIMCO 15+ US TIPS ETF LTPZ,
-0.87%,
which tracks long-term inflation-protected Treasury bills, is 15% cheaper than on January 1, and Uncle Sam's TIPS bonds are now guaranteed to protect your purchasing power – plus 0.2% per year – until 2052. These bonds have a positive "real" return, ie a return in addition to inflation, for maturities greater than approximately 20 years.
Three months ago, when people were much less worried about inflation, long-term TIPS bonds were so expensive that they effectively guaranteed a total loss of 10% of your purchasing power over 30 years – and this was measured using the official inflation rate.
Meanwhile, the Western Asset Inflation-Linked Opportunities and Income Fund WIW,
+0.17%,
a regulated US mutual fund that invests in inflation-protected bonds and related assets, is also on sale and is currently selling for 90 cents on the dollar. WIW is what is called a "closed end" mutual fund. This means that even though it is a mutual fund, like the household names of companies such as Vanguard or American Funds, you invest by buying shares of the fund on the stock exchange, just as you would with a stock like Apple AAPL,
-0.87%
or Tesla TSLA,
-2.34%.
(WIW is managed by fund company Franklin Templeton.)
Since there are only a limited number of fund units in circulation, the share price may move independently of the value of the fund's investments. So right now the fund has about $13 per share in bonds and other assets, but stocks are trading around $11.60.
A similar fund (also managed by Franklin Templeton), Western Asset Inflation-Linked Income WIA,
-0.04%,
is trading at 91 cents on the dollar.
Bill Gates' personal investment vehicle, Cascade Investments, owned more than 20% of the shares of both funds at last count, according to public filings.
I spoke to Chris Larsen, senior product manager at Franklin Templeton and in-house expert on both funds, to understand them a bit more. Both use leverage to increase the size of the fund, much like homeowners take out a mortgage so they can buy a bigger house. For both funds, the current loan-to-value ratio is just over 30%.
This leverage, taken at short-term interest rates, was great business when interest rates were so low. Last year they paid about 0.2% — really — on the debt. If today's money markets are right, short-term interest rates in the next year or two will be around 2% or more. This could take a large chunk out of the fund's returns.
But… if the Fed raises its rates, it will probably be because inflation is not under control. If that happens, we could also see the bond values ​​of these funds rise sharply as there is likely to be a lot more demand for inflation protection. During this time, we would likely see the fund's share price rise even more than that, because I suspect that if there is a full-scale inflationary panic, the market will not yet sell the shares of hedged bond funds inflation at 90 cents on the dollar.
On the other hand, if inflation fears collapse again – if today's inflation spike turns into tomorrow's slump – those funds could still be in good shape: their costs of short-term interest will stay low and bonds – all bonds – will come back into vogue. And there is this significant discount. WIA currently pays 4.1% of the share price per year in dividends and WIW 5%.
Larsen tells me that fund managers aren't tied to the amount of leverage either. If short-term interest charges increase too much and stop benefiting investors in the fund, the company will simply borrow much less. "We will keep this leverage as long as we have positive 'carry'," he tells me, that is, as long as the return on investments is greater than the cost of debt. "The team is adjusting the leverage," adds Larsen. "It's not" set it (and) forget it. ""
Incidentally, both funds have spend rates of around 0.7% to 0.8%. Even after taking fees into account, both have outperformed regular TIPS funds over 5 and 10 years, in part due to leverage. They also hold non-TIPS assets, such as corporate and emerging market bonds. WIW is meant to be the slightly "riskier" fund of the two, and invests a bit more in things like emerging market bonds, which tend to be more volatile.
You pay your money and make your choice, as they say. Or one can buy long-term TIPS bonds without leverage.
What is the real outlook for inflation? Well, the latest figures show that the bond market is less worried than it was a few weeks ago: it now expects inflation to average 3.26% per year over the next 5 years, against a forecast of 3.6% just a few weeks ago. We will see.
Once upon a time, over a decade ago, TIPS bonds paid guaranteed interest rates of 2% per annum or more above the rate of inflation. By these standards, today's rates are dismal. But what really matters to investors is what they're going to look like in the years, if not decades, to come.
Veteran fund manager Jonathan Ruffer remembers double-digit inflation of the 1970s, which was even worse in his native Britain than it was here. At the time, he was a young fund manager in London. He writes: "I remember a colleague from the fund management company Dunbar Group, where I worked at the time, who got angry with a client who pointed out to him that she had suffered a real loss to inflation. The client was told she was looking for a ridiculous suction. (Mine in italics.)
At the time, investors, says Ruffer, "seemed defenseless against inflation." He fears the same thing will happen again.
The real inflation problem for retirees is not forecasting but risk. And that's where things like inflation-protected bonds come in handy.